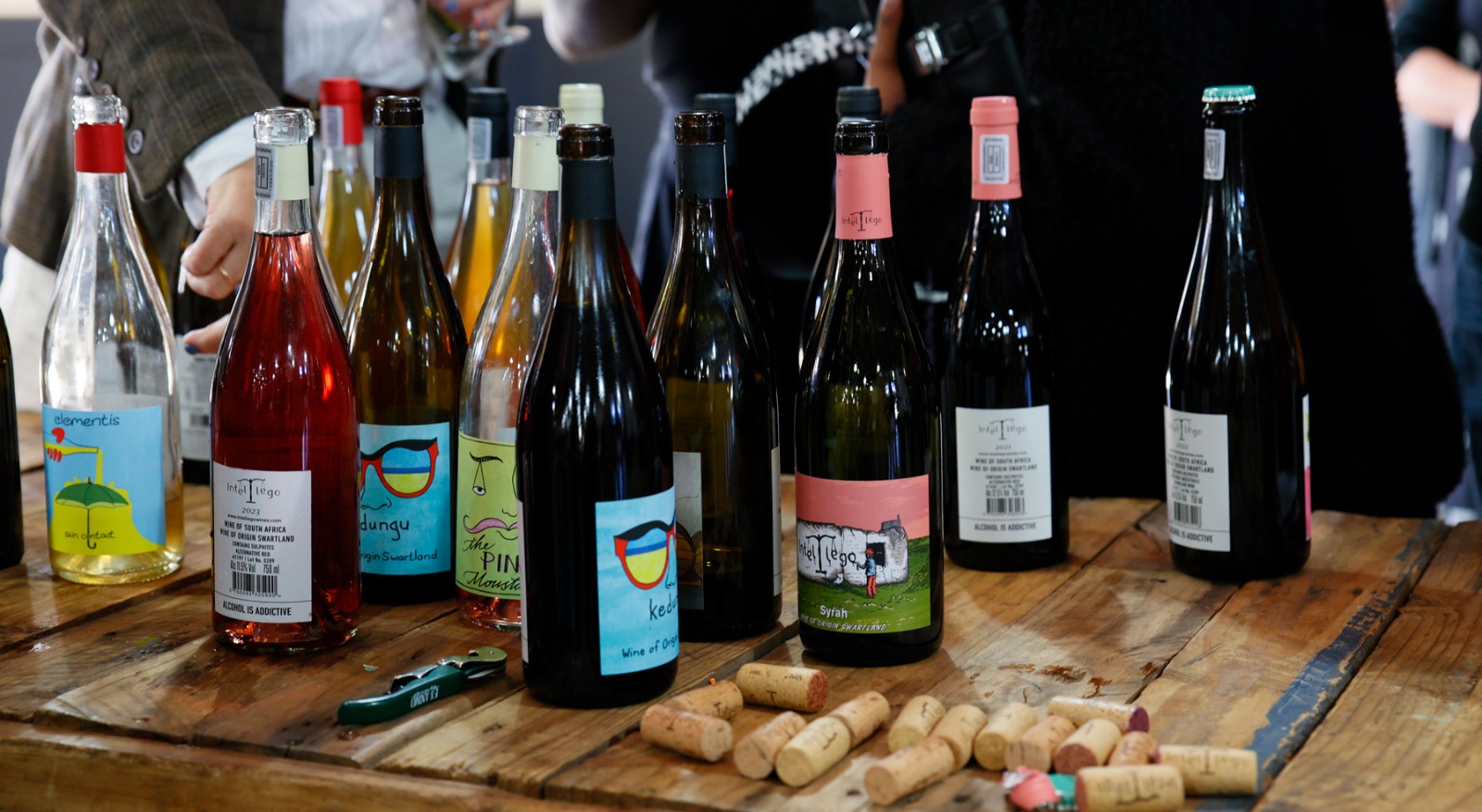 INTELLEGO
The wines of Jurgen Gouws
Intellego has been on the cutting edge of the South African wine scene for over ten years. Jurgen's wines are found in funky little wine bars and progressive restaurants all over the world.
Based in the vineyards of the Paardeberg in the Swartland, Jurgen has been steadily honing his craft since the early 2000s. His approach is one of minimal intervention in the winery, but maximum effort in the vineyard.
His wines are bright, electric and visceral.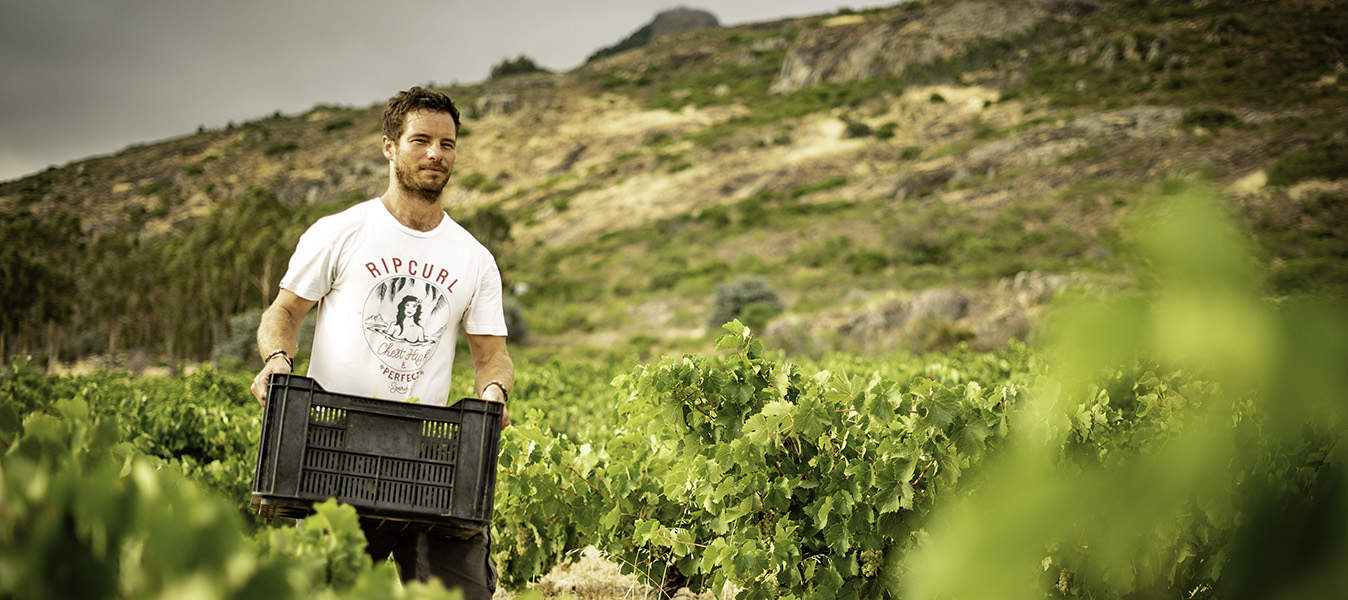 "Our philosophy remains minimal intervention during the winemaking process and the wines are a celebration of the hard work done in the vineyard. For us it is intuitive winegrowing, an evolution through experimentation on small pockets of land selected in the Swartland Appellation."
— Jurgen Gouws
Intellego 'Story of Harry' 2022
An innovative blend using a small percentage of early picked Chardonnay with skin contact Chenin Blanc.
Chardonnay is not a variety often seen in Swartland wines – the ripening season is just too hot and dry to make compelling wines from 100% Chardonnay wines. Jurgen uses this to his advantage by blending in early picked Chardonnay to add freshness and structure to the textured and layered skin contact Chenin Blanc.
The result is a compelling wine that is lively, intense and cheerful.
Intellego Chenin Blanc 2022
Classic Paardeberg Chenin Blanc – finely textured with lovely open palate with plenty of fruit weight. Aged in a single 2500L foudre.
Christian Eedes, Winemag: From a Paardeberg vineyard planted in 2002 on granite. Matured in 2 500-litre foudre for 12 months. Pear, peach, apple plus traces of fynbos and earth on the nose. The palate is light-bodied with mild acidity and a slightly pithy quality to the finish.
Intellego 'Elementis' 2022
From Abbotsdale (koffieklip) – 100% Chenin Blanc – skin contact for 2 weeks. Electric and tense, with fine powdery tannin and exotic citrus fruits.
CE: From an Abbotsdale vineyard planted in 1988 on alluvial soils. Fermented on the skins for 14 days before being matured in old 500-litre French oak barrels for 10 months. Very fragrant with note of potpourri, orange, peach and spice. The palate of this vintage has an intriguing structure being quite dense but not overly tannic, the acidity moderate…still full of flavour.
Intellego 'The Sleeping Co-Pilot' 2022
100% Viognier – whole-bunch for 2 weeks. Exotic fruits and spices, with dried wild herbs – opens up in the glass, truly unique.
CE: Gouws's effort to re-imagine the variety and his most successful effort to date – growing conditions compelled him to pick early (grapes from a Kasteelsig vineyard on quartz) and the wine has an also less of the rusticity that this bottling can show, alcohol being just 10%. Entirely whole-bunch fermented and left on the skins for 10 days. Maturation as for Elementis. The nose shows floral perfume, dried herbs, peach and a faint terpene quality. The palate is lean with tangy acidity, the finish grippy but not astringent. Undoubtedly esoteric but not without pleasure for the more open-minded!
Intellego 'The Pink Moustache' 2023
An irresistible wine – the Cinsaut and Mourvedre bring candy floss, cherry and red apple – the Syrah brings weight and some tannin. Delicious.
CE: The Cinsaut fermented for 4 days on the skins – whole bunch, the Syrah and Mourvedre pressed directly to barrel – is it a rosé or is it a "light red"? I don't think Gouws knows but I don't think he cares, either. Fuschia in colour, the nose shows raspberry, floral perfume and herbs while the palate is juicy and fresh with lightly grippy tannins. Hugely appealing.
Intellego 'Kedungu' 2023
Mourvedre/Syrah/Cinsaut/Pinotage – More and more reliant on Mourvedre – Jurgen is very positive on its suitability in Swartland. Kedungu is the Beaujolais of the Swartland 🙂
CE: Fermented whole-bunch under semi-carbonic conditions. Aged in old 228- and 500-litre barrels for 10 months. Cranberry, cherry and plum plus fynbos and a hint of white pepper and other spice on the nose. The palate is again light with pure fruit, vibrant acidity and powdery tannins. Gouws says it's "Beaujolais inspired" and that makes sense – completely charming.
Intellego 'Halagasha' 2023
A beautiful rendition of Pinotage – supple, aromatic and pure. Lovely tight tannin and expressive fruit. Effortless.
CE: Grapes from a Paardeberg vineyard on granite planted in the early 2000s. Whole-bunch fermented under semi carbonic conditions for seven days before maturation in old oak barrels for five months. Extremely primary aromatics at this stage – red-berry boiled sweets come to mind. The fruit is very much to the fore on the palate to go with snappy acidity, the finish quietly persistent.
Intellego Syrah 2021
Classic Paardeberg Syrah, spice and herbs with black and red fruit. Floral and with a lovely grippy tannin.
CE: Grapes from a Paardeberg vineyard on granite. Fermented under semi carbonic conditions for 10 days on the stems before maturation lasting 10 months in old 500-litre oak barrels. Evocative aromatics of red and black berries, olive, earth, pepper and other spice. The palate has a certain compelling wildness about it – light but intricate with pure fruit, bright acidity and fine yet assertive tannins. Packs a flavour punch.