Luddite Wines
Summary
Niels and Penny Verburg started Luddite Wines while Niels was still the winemaker at Beaumont in Bot River. Twenty years later Luddite, above the town of Bot River, is one of the icon wine producers of the entire Overberg region.
As the name Luddite suggests, the Verburgs favour a lo-fi approach to farming and winemaking. They seek to produce wines of character, interest, texture and uniqueness. Penny looks after the vineyards, and Niels is in charge in the cellar. Their daughter Alice has recently joined her father in the winery.
The Saboteur range started with the red blend from the 2009 vintage and is mostly made from bought-in fruit. The white is a blend of Chenin Blanc, Viognier and Sauvignon Blanc. Niels ferments the Sauvignon portion in barrel and the other components on their skins. Sauvignon Bland is listed as Fumé Blanc on the label as Niels can't quite bring himself to put Sauvignon Blanc on the label.
The Saboteur, Niels insists, is not a second label, rather a different style of wine than the Luddite wines. The Saboteur Red is a blend of Shiraz, Cabernet Sauvignon and Mourvedre. It sees more new oak than the Luddite Shiraz, but less time in that oak. It is an approachable, fruit-driven wine that still has the seriousness a Luddite wine should.
The Luddite Chenin Blanc is the smallest production wine from the cellar, as with the Luddite Shiraz, it is made entirely from their own fruit. Some skin contact and aging in old wood gives this wine a textured, avant-garde feel. It is quite striking and not for the uninitiated.
The Luddite Shiraz is, without question, the leading wine of the property. Made with only Luddite fruit, it is a love letter to both Bot River and Shiraz. Niels believes that South Africa shouldn't use the term Syrah, so he uses the slightly out of favour Shiraz instead. This wine is powerful, deep, rich, ripe and long-lived. Both muscular and brooding, it is a beast of a wine that leaves an impression on those that drink it.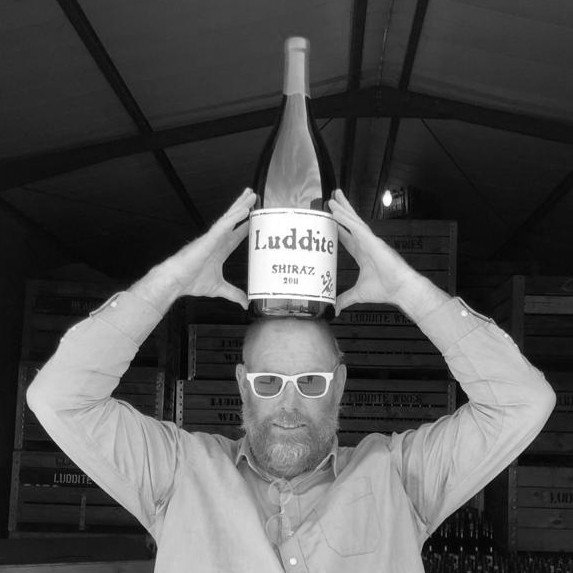 Information
Winemakers: Niels and Alice Verburg
Viticulture: Own vineyards and bought-in fruit.
Vinification: Traditional